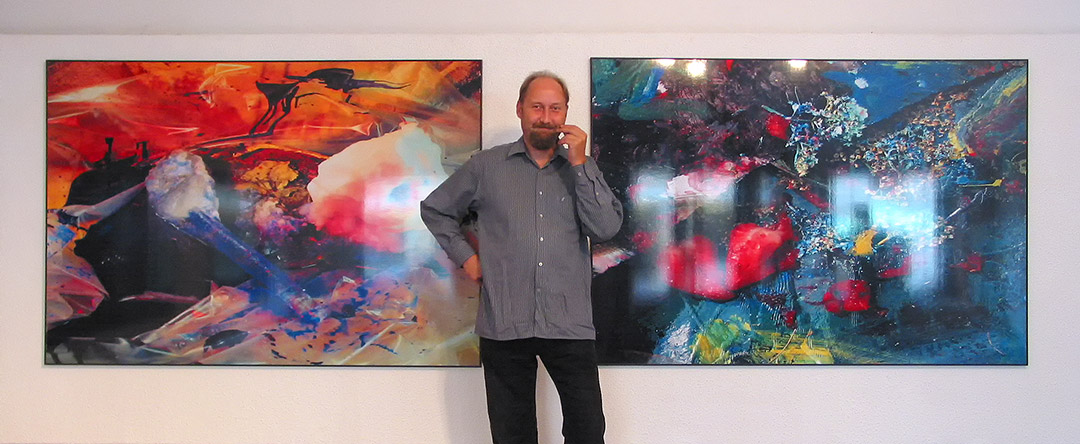 Igor Pustovrh (1961-2011) famous Slovenian art photographer
Part of old biograpy:
Photographic work of Igor Pustovrh
Born in Kranj in 1961, currently residing in Ljubljana, he began his professional career as a photographer in the eighties. He participated in a number of prestigious exhibitions at home and abroad such as "Foto treh dežel" (Photographs from the three countries) in Velenje, 1978 and "Triangolare di potografia" in Padova, 1988 where he was awarded 1st prizes. In 1988 in Prague, the jury awarded him a special prize at the "Photo exhibition" and in Belgium, at the "Salon Mondial", he won a certificate of merrit. In Slovenia his work was accepted in a number of retrospective exhibitions, among them the DOS exhibition. In 1993 he took part in the "Stara elektrarna" in Ljubljana, part of the "Metelkova network"; in 1994 he was one of the exhibitors at the "Fiat Lux" exhibition in the Ivan Grohar Gallery in Skofja Loka and in 2000 he took part in a retrospective exhibition of nude photography in Slovenia in the Museum of Architecture in Ljubljana. Since 1999 Igor has participated in international workshops "Slovenia open for art" at the Sinji hrib. His solo exhibitions were held in the Ivan Napotnik Gallery in Velenje, 1990, Ivan Grohar Gallery in Skofja Loka, 1992, KUD France Preseren Gallery in Ljubljana, 1996 and the exhibition in the Kosova graščina Gallery in Jesenice, 1999. For 2002 a major retrospective exhibition is planned in the Gorenjska museum in Kranj (The Gallery in Prešeren's house in Kranj and the Town Hall).
Igor Pustovrh has had success as a portrait and landscape photographer; in recent years he devoted his camera's attention to nude photography and still life. In addition to technical perfection, his work is marked by his tendency to be expressive, which is especially true of his opus of black and white nude photography. Some of these became computer generated images published as part of an introduction to Igor Pustovrh in the Gorenjska art magazine "Nova Atlantida" in 1995 by Franc Zagoričnik, entitled "The Cyclops eye of the Camera". Similar is true of his colour photographs of still life with a clear symbolic meaning and arranged by Igor as meaningful combinations in the style of paintings.
Damir Globočnik
– – – o – – –
Igor Pustovrh begins his artistic process at the moment he makes his choice of subject. Since direct surroundings do not offer any source for his artistic creativity, he creates these himself. A subject for him is his conscious artistic means. Carefully chosen objects, often derived from the organic world narrate the well-thought-out story composition with their natural colours as well as additional layers of colouring, dynamic relationship between various parts of the narration and interesting structures. Preparation of the subject itself is the author's unique artistic contribution to his creation. This then forms the beginning, more, the essence of his photographic record.
His artistic work continues through his camera skills and finishes by enlarging the photographs after scanning, followed by printing with no manipulation in-between. This then is the classic style of photography where light alone always plays the decisive role. His artistic power, autonomy and persuasion are based on the manipulation of the subject. Igor Pustovrh's photography is different; not showing fleeting moments of time and space but expressing in an image, the author's narrative. Its elements are sensually selected depicting variations of a profound message carrying a multitude of meanings. The substance itself is used to communicate the photographer's message thus elevating the subject to a pedestal. The interesting, lively narrative of Igor Pustovrh is woven by the play of light and shadow, glitter and flashes, reflexes and translucent, vivid colours and contrasts, enriched by gentle softness and sometimes by accurately defined areas of sharpness. This then is the secret to the subtlety and vitality of Igor Pustovrh's photographs. Their fullness and perfection is enhanced by carefully chosen and often unusual format. Enlargements have a fascinating effect, adding a new dimension, power and energy charge to the record which addresses and entrances the viewer.
His extremely subjective approach, marking the first step in his recording, offers a free, fresh and artistically affluent expression. His narratives begin as messages from the world of the art of painting but are delivered/echoed in a completely different interpretation media, i.e. photography – photography of Igor Pustovrh.
Ana Maria Stibilj
– – – o – – –
Each fragment of the world around us offers a creative mind an abundance of ideas for mental and artistic transformation as proven by the many artistic styles and movements over the decades. The motivation which leads Igor Pustovrh in his photographic artistry is recognised by anyone whilst the spiritual concept with its veiled message remains timeless, almost mystical also in his latest opus. His source of inspiration always carries a dimension of sensuality, even when dealing with subjects which seemingly do not suggest a sensual approach in their core content. The author's philosophic language is in its form a continuation and a unique development of surrealism began some time ago. A combination of apparently incompatible elements are transparent, with fewer and fewer human figures, and more an more allusions to the problems of modern times (alienation, environmental pollution, etc.) surrounded by wild colouring as the connecting thread between various phases and cycles, fairly unified by expression and iconography. Pustovrh consistently sticks to the original idea, and in order to express this, his subject is sometimes modified, uniquely changed and prepared for photographic record. With such manual intervention into the substance he widens the spectre of his expressive creativity, wiping out the boundaries between various artistic genres and at the same time creating a uniquely original one; aesthetics based on reason and passion with a transitory extension either organic or universal in its pure physical meaning. Artificial external settings offer association to an empty stage, devastated areas full of remnants of man's barbaric intervention in nature or maybe to a far away planet. We are reminded of the world we live in – so familiar yet so strange. Perhaps Igor Pustovrh systematically exposes contrasts of materials (PVC – earth, gaudily coloured corn cob) to evoke the spectator's need for total harmony of life. Perhaps his intention is directed to the expression although sometimes bizarre yet never cheap. The artist loves to play with light and colours; in combination with various object forms he often creates the feeling of delicate optical illusions alluring the eye whilst at the same time expressing new mental and symbolic interactions.
The various structures and materials used seemingly simulate mountain ranges; colourful layers covering rough surface of hard earth appear imaginary but not static since Igor Pustovrh with the formation of artistically stirred scenery and contrasts restores objects to life thus creating new worlds. He astonishes with refined organic contacts between hardly compatible elements (hand – ice, printed circuit – plants)which give sense to difficult interpretation content of the subject. The photographer's duty is not only to make an optical recording of objets which happens independently of the author; he is not only a subjective re-maker, he is a creator of a well-thought setting, painted and further processed (although effective iridescence is usually coincidental). Comparison with a sculptor, attentively photographing his sculptures presents itself. Can we talk of pure photography, orthodox painting, electric sculpture?
Boštjan Soklič
– – – o – – –
The photographic endeavours of Igor Pustovrh encompass a wide variation of subjects from landscape, still life, portraits, various subjects from the material world to abstract world. His landscapes are full of detail, rather than being panoramic views. It seems that the limited space ensures greater intimacy and mood in his expression than the multitude of various landscape elements. Light again plays an important role in the author's landscape work softening hard outlines of landscape objects and the light contrasts amplify the powerful content of the photographs.
His still life usually depicts unusual objects such as various tools, parts of machinery, furniture etc. often placed in unusual relations. His figures express various movements of their bodies, especially hands to symbolise their innate experiences. Despite its firm attachment to the material world, one part of his photography is however evolving towards the abstract. Individual photographs made in the style of paintings, colour spots and surfaces where only infrequently we feel the presence of colourist transformed matter.
Cene Avguštin
– – – o – – –
The Cyclops' eye of the camera Igor Pustovrh's exhibition in the Ivan Grohar Gallery in Skofja Loka, autumn of 1992
The inclusion of Mythology in the title tries to embrace the theme covered by Igor Pustovrh's photographs and at the same time rendering both the expressive means and its expressional subject subordinate.
Still, if the parable of the Cyclops eye with the mechanics of the camera is understandable at the level of its subject, it leads to the critical sphere of judging artistic action as well as creative thought. Action because it presents both artistic and cultural realisation reflected in the social acceptance of the artistic work and (as a consequence) also its social realisation. We attempt to judge the thought since the artistic work presents the main actor of the social rites who is also a unique missionary in our cultural transmission. This attempt is, if nothing more, the result of our excitement caused by the action and its social reality.
What is the reality of an event or action if it cannot be measured in its full physical and mental extension? Isn't this extensiveness also fugacious or at least current, relating to this particular moment? It is neither thematic nor meaningful possibly not even communicative – communicating with its whole being or self-determination of the creative process and identifying both the artist and its artistic expression.
It is strange although fairly simple: the exhibition by Igor Pustovrh bears its title, name and surname; as if in general the name and surname do not reflect the original theme.
In this case the theme escapes its genre. Looking at it from the literal point of view, it only offers a "technical" title. However, the theme is announced or even better revealed by "The Amazon lady". Not with the literal expression but by its own narration – in the language of the genre and her own body not expressing itself as the object of a desire nor its own wish for self-realisation. It is also expressed as a subject only able to exist in this world as a nude holding a sword and force in the act of violence.
Yet these are not the usual nudes as a series of pleasing, delicious, transparent and meaningless objets of beauty. Nakedness does not appear in its aesthetic self-sufficiency where we are always amazed by the lack of life's aversion. The nakedness could with its fetishism satisfy the all-demanding consumer and marketability which is at the same time self-sufficient and ineffective. The fact that everything is achievable may eliminate the need for self-sacrifice since it is in its fundamental substance unattainable. It is in touch with the sacred "life's aversion", the truth as an attribute of what is sacred where any superfluous questioning of the meaning and absurdity ends and where the (non-) venality and the sacred certainty of things continues.
These are nudes in action. They are more than just available or granted. These are nudes as the acts of sacrifice and self-sacrifice. And we find ourselves asking FOR WHAT? Only to find that the answer is FOR NOTHING. A merciless stroke of reality, final expression and ultimateness.
The situation is both healthy and wearisome. As if the artistic subject was wondering, as we do, what to do with these live bodies after the end of ideology and totalitarity. What to do with our freedom and independence before we sink into a new dependency, a newly set and forced freedom? In some kind of a new propriety without any doubts in final deliverance if not again in redemption within space and eternity where the good life is not a metaphor for self-determination and freedom – quite the opposite.
The nudes of Igor Pustovrh are always surpassed by something outside their own appearance, by something of human origin and human physical and mental nature; not nature itself which might serve as scenery as if man could be the answer to everything. By the artist's choice, things work in harmony with man. In the language of symbols these become artefacts and mythological beings. These are works of art for sake of the art itself, deriving from art and the history of art, ethnography and crafts as well as man's common everyday life. Igor Pustovrh's photographs include subjects such as: Sapfo, Moses, musical instruments, weapons, furniture, cartwheel (perhaps to illustrate a rack or simply a means of deception), hay, pets, a goat and her kids. Thus man himself becomes mythological, a kind of an elf rushing through the forest.
Igor Pustovrh always manages to create a kind of mythological situation as a profound reality beyond self-adequacy of the spectacle and the spectator himself. A situation which is alive yet, as if time stood still – brought from the eternity to the new present extension. As a result, his photographs are unusually conclusive in all their artistic expression. We continue, although slightly embarrassed, to ask ourselves what are they trying to communicate to us and what should our reaction be.
Perhaps the nude achieved its basic terminological meaning. It is an act, acting and giving. It is a man's drama, a drama of the artist and his desire. It seems that the Cyclops, Igor Pustovrh's goat and her kids, pays with his mythological eye, a live black hole of nothing, into which a Nobody-Odysseus may stick its killing sphere or not – sooner or later it shall be slaughtered. The eye pays for our, although civilised, inconsistency and primitivism to which we succumb together with the artist and where the elementary act and give remain of feminine gender only- "The indignant Amazon lady".
mr. Franci Zagoričnik